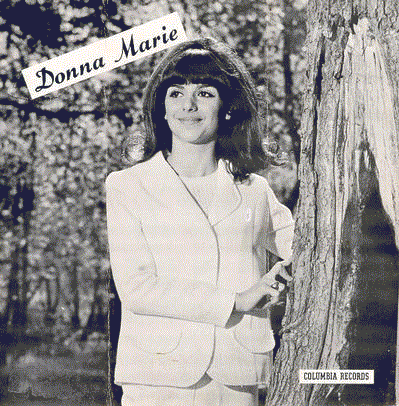 (Above photo courtesy of Don Charles)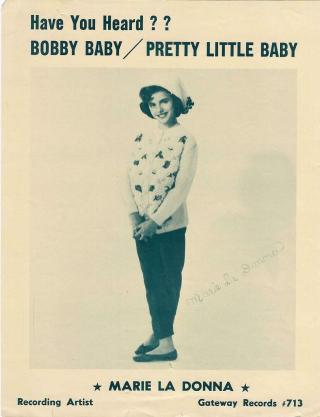 Donna Marie was born Marie Ladagona in Newark, New Jersey, on June 28, 1950. She had an early interest in singing and a natural talent for it, so with her parents' support, she embarked on a career in music. Marie peformed at dinner dances and charity events, and was just thirteen when she made her first record, "Bobby Baby." During the sixties she used several different names, first Anglicizing her own name to Marie Ladonna, then switching it around to Donna Marie.
It was a combination of talent and good timing that led her to the recording session that within a few months would get her voice heard nationally. In 1970, at her manager's suggestion, Donna Marie, now going by the professional name Tracy Russell, auditioned for producer
Jeff Barry
. Jeff was on his way to an Archies recording session and asked Marie if she'd like to come along. In the studio,
Ron Dante
was laying down his lead vocal for the Archies' fifth single, "Who's Your Baby." The song called for a female lead as well, and studio singers were being used in the wake of Toni Wine's departure from the group; but for whatever reason, the session wasn't "happening." In one of those true Ruby Keeler moments that occur in show business every now and then, Donna Marie found herself with a set of headphones on, "(singing) my heart out" as she would later put it. "Who's Your Baby" was released with Marie's vocals, and it wasn't very long before the public was familiar with the voice of Donna Marie -- both singing and speaking. The song begins with a hot spoken dialogue between Ron and Donna Marie, and DM's sultry "Mmmmm ... heavy" at the end of it was quickly picked up as a sound byte and used by New York area deejays!
Donna Marie went on to share another duet with Ron a couple of singles later, in "Together We Two," which like "Who's Your Baby" was penned by Jeff Barry and
Andy Kim
. This was The Archies' next-to-last single release. In 1971, Ron and Donna Marie performed in public as The Archies for the first and only time, for a charity benefit at Saint Theresa's Church in Kenilworth, NJ. (Other so-called touring "Archies" were frauds.) Jeff Barry was moving on to new ventures and out to California, and he offered to produce Donna Marie if she continued recording. Donna Marie, however, was moving on as well ... she was getting married and had to remain on the East Coast due to her husband's job.
Today, Donna Marie still lives in the Northeast with her husband, George. They have three children and the still-stunning singer is a grandmother (!). Donna Marie hasn't performed professionally since her marriage, but her love for singing remains as strong as ever. Very involved with her church choir, Donna Marie is also co-director of the junior choir. She's also working with a very talented Christian songwriter and is in the process of putting together a CD of Christian songs.*
*Update - the Christian music CD, Morning Prayer, was released in early 2005. Donna Marie has relocated with her husband and youngest son to the warmer climate of the southeastern U.S.