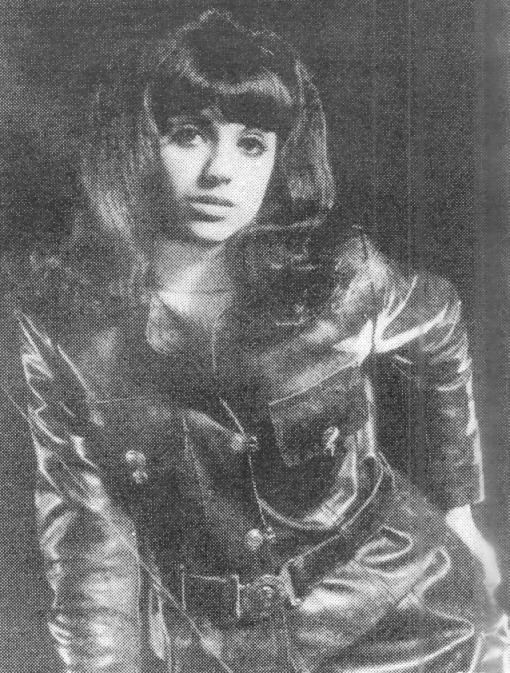 Donna Marie, in case you're wondering, is the beautiful Cher look-alike who contributed sultry vocals to the Archies' singles "Who's Your Baby" (US: Kirshner 5003; UK: RCA 5003; rel: 1970) and "Together We Two" (US: Kirshner 5009; UK: RCA 5009; rel: 1971). Although "Who's Your Baby" was a minor hit in the United States, reaching number 40 in the Hot 100, the American public never got the chance to see just how beautiful she was because the Archies were of course a cartoon band. She did perform live once with the Archies' lead vocalist Ron Dante, but I can't help thinking they blew a great opportunity to become a pop duo along similar lines to say Sonny and Cher, the Carpenters or Donny and Marie Osmond. Whilst Donna pursued a post-Archies career doing demo work, before settling down to bring up her family, Ron Dante went from strength to strength as a producer. Amongst the artists he worked with are Barry Manilow (on a string of massively successful albums, with sales totaling 60 million), Dionne Warwick, Pat Benatar, Irene Cara, John Denver and, ironically, Cher.
Jimmy "The Wiz" Wisner
Donna's contributions to the Archies are only a small part of her fascinating story, as she spent most of the 1960s as a performer, releasing her first record when she was only 13 years old. One of the people she worked with prior to the Archies is the legendary producer, arranger and composer Jimmy "The Wiz" Wisner. He had an international hit in 1961 with "Asia Minor" by Kokomo, His Piano and Orchestra. Amazingly, he's still very active in the music industry and now runs his own label called WizWorks Records. When I contacted him, via email, to ask a few questions about his time working with Donna Marie, his reply betrayed a real affection for her. He wrote, "Thanks for your email and a blast from the past. I was head of A&R at Columbia Records during the period 1968-1969. I signed Donna to Columbia specifically to record the winning song of the 1968 Eurovision song contest. It was called 'He Gives Me Love (La La La).' The b-side was called 'Sunshine Mind.' I signed Donna because she had a great, young voice, was a very attractive young lady and had charisma. We recorded at Columbia's Studio B on 52nd Street. We had the top studio players and I had Pete Dino do the arrangements. I loved the record we made, but it didn't make it. Why? My early mentor at Cameo Parkway Records, Bernie Lowe, said the following: 'To make a hit record you need a great song, a great singer, great arrangement, studio and engineer and then you have to feel which way the wind is blowing.' In other words, you have to be both good and lucky. There are many great talents that dont make it through no fault of their own; it can be very frustrating. I didnt keep in touch with Donna after that, but Im pleased that she hooked up with Ron Dante, a good friend of mine, and went on to be involved with the Archies. Good luck to you with your fanzine. Its important to keep the information alive especially for the artists."
Jeff Barry
"He Gives Me Love (La La La)" may not have made it into the charts, but it did bring her to the attention of the former Brill Building songwriter and Archies' producer Jeff Barry. It was 1970 and Toni Wine, who'd shared lead vocals on the early Archies' hits - most notably "Sugar, Sugar" - had recently left the project following a row over royalties. Barry invited Donna along to an Archies' session, ostensibly as an observer, but she proceeded to wow all those present, including music supervisor Don Kirshner, when she stepped in to nail "Who's Your Baby" in one take after the three female studio singers present had all struggled getting the timing down on the speaking part at the beginning of the song. Following the demise of the Archies, Jeff Barry asked her to move out to California and become a solo artist with him as her producer. It must've been love because she turned him down, as she ws getting married and her husband-to-be's job kept him on the East Coast.
Donna Marie very rarely gives interviews. The only one I'm aware of was conducted by Don Charles back in 1990. However, the timing of my request couldn't have been better. Donna's been thinking about returning to the music business for awhile, fueled no doubt by the news that Toni Wine and Ron Dante appeared on stage together for the first time ever in 2002, and also by her own recent reunion with Ron Dante after 30 years apart. She's currently excited about the possibility of recording a CD of Christian music with a friend who's a songwriter. I can't say Christian music is my cup of tea, but if it means Donna Marie gets to record and perform live again, I'm all for it. She's a charming woman and, as you'll see from the recent photograph taken by husband George on his newly acquired digital camera, she remains as strikingly attractive as she was in the late 1960s.
The Donna Marie Interview, Page Two